In another match, the LA Lakers met the San Antonio Spurs. George Hill scored 21 and Manu Ginobili scored 24 points for the Spurs.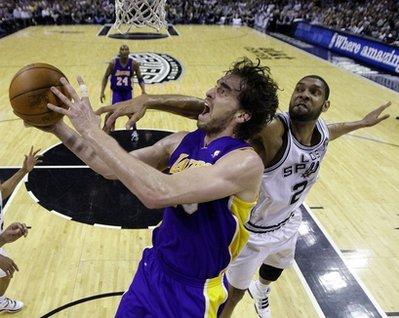 Los Angeles Lakers' Pau Gaso, left, of Spain, is defended by San
Antonio Spurs' Tim Duncan during the first quarter of an NBA
basketball game, Wednesday, March 24, 2010, in San Antonio.(AP
Photo/Eric Gay)
The Lakers caught San Antonio and took their first lead. Shannon Brown hit his second straight 3-pointer with 1:30 left in the third.
L.A.went on a 16-3 run in the fourth. Kobe Bryant highlighted the streak with a pair of three pointers. The Lakers were 8-for-12 from beyond the arc after halftime. L-A beat the Spurs 92-83.