Rafael Nadal is through to the third round of the Monte Carlo Masters after a 6-1, 6-0 victory over Thiemo de Bakker of the Netherlands. Nadal was far too good for his opponent, breaking service five times in the match.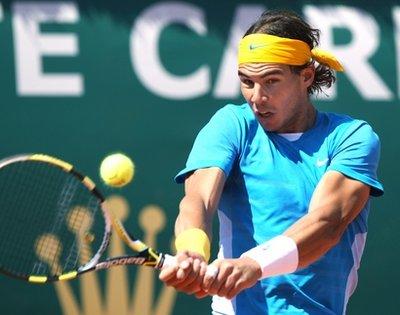 Spain's Rafael Nadal returns the balls to Netherland's Thiemo De
Bakker, during their second round match of the Monte Carlo Tennis
Masters tournament, in Monaco, Wednesday, April 14, 2010.(AP Photo/
Claude Paris)
It's the Spaniard's 28th straight win in Monte Carlo, as he aims to take the title for a sixth successive year. Nadal will go on to play Germany's Michael Berrer in the last sixteen.
Last year's beaten finalist Novak Djokovic also advanced to the third round. The Serbian raced to a 4-0 lead against Frenchman Florent Serra in his first clay court game of the season - but did not have it all his own way, Serra fighting back to force nine break points.
Djokovic eventually prevailed though - a 6-2, 6-3 win setting him up for an encounter with 13th seed Stanislas Wawrinka.