The F1 world has come to China ahead of the upcoming Chinese Grand Prix on Sunday, and it will be a great field. Five of the six previous winners of the event will take part, along with the legendary Michael Schumacher.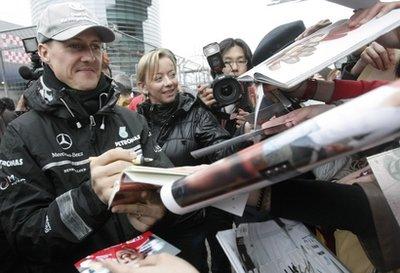 Mercedes Formula One driver Michael Schumacher of Germany signs
autographs for fans at the Chinese Formula One Grand Prix in
Shanghai, China, Thursday.
Thursday saw all the drivers arrive at the Shanghai International Circuit to prepare for Friday's practice session.
The weather conditions for the day, cool and cloudy with temperatures between 5 and 10 degrees Celsius. Thankfully, rain which had fallen over the last few days, stayed away.
First to take to the track was Williams' Rubens Barrichello. The 40-year-old was the inaugural race champion in 2004.
Then came the only Chinese face, Ho-Pin Tung, a Renault test driver who will not compete in the event.
Red Bull Formula One driver Sebastian
Vettel of Germany runs down he F1
Paddock on his arrival at the Shanghai
International Circuit for the the
Chinese Formula One Grand Prix in
Shanghai, China, Thursday, April 15,
2010.
Red Bull's Sebastian Vettel, another former winner, looked like he could of used a few energy drinks. His flight coming into Shanghai was delayed, and he arrived late Wednesday.
In all, five of the six winners of the China GP are in Shanghai for the event. Barrichello and Vettel, will be joined by Fernando Alonso, Lewis Hamilton and Michael Schumacher.