Two-time former champion Juan Carlos Ferrero earned a quarter-final clash with compatriot Rafael Nadal with a 6-1, 3-6, 7-5 win over Jo-Wilfried Tsonga of France at the Monte Carlo Masters on Thursday.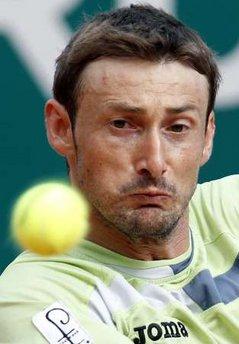 Juan Carlos Ferrero of Spain hits a
return to Jo Wilfried Tsonga of France
during their match at the Monte Carlo
Masters tennis tournament in Monaco April
15, 2010.REUTERS/Sebastien Nogier
(MONACO - Tags: SPORT TENNIS)
Ninth seeded Spaniard Juan Carlos Ferrero had a good beginning and had a 3-1 lead, taking the first set 6-1. Jo-Wilfried Tsonga fought back in the second, winning it 6-3. While In the final set, Ferrero held easily to lead 6-5, forcing Tsonga to serve to stay in the match.When the Frenchman's forehand flew into the net after a short rally the Spaniard clinched victory. Ferrero's next opponent is world number three Rafael Nadal.