With flight travel in Europe still grounded for the most part, European Cup holders Barcelona have decided to travel by bus to play Inter Milan in Tuesday's Champions League semi-final first leg.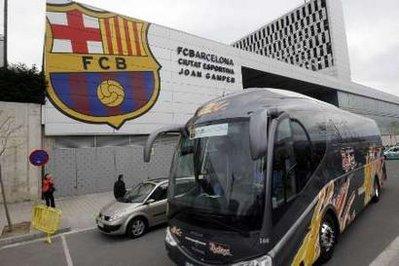 Barcelona's second soccer team bus carrying coach Pep Guardiola
leaves their training ground Ciutat Esportiva Joan Gamper in
Barcelona April 18, 2010. The team is heading to Milan with a stop
in the French city of Cannes, to play the semi-finals of the
Champions League against Inter Milan next Tuesday. The airports in
Barcelona and Milan are closed over the weekend due to ash clouds
caused by an Icelandic volcano that has turned northern Europe into
a no-fly zone.REUTERS/Gustau Nacarino (SPAIN - Tags: SPORT SOCCER)
The club says on their website that the La Liga leaders boarded two buses after Sunday's practice to travel to Cannes on Sunday. Pep Guardiola's side have been forced to change their plans by the cloud of volcanic ash which has been disrupting flights around Europe.
Both Barcelona and Milan airports were closed on Sunday. Earlier in the day UEFA said this week's Champions League semi-finals will go ahead despite the disruption to European air travel. UEFA said their travel department and other officials had been in close contact with all four clubs and that there was no problems with the travelling teams reaching their destinations. The other semi-final features Bayern Munich at home against Lyon on Wednesday.
Sergio Busquets of Barca midfielder says, "Normally all the trips are shorter and by plane but it is something that has no solution, Europe is all closed to flights. We will try to make it as short as possible. We will make an intermediate stop in Cannes to sleep. But, above all, our focus is that we are going to play a semi-final and that is very important."