The defending Eastern Conference champion Magic, opening against the Bobcats.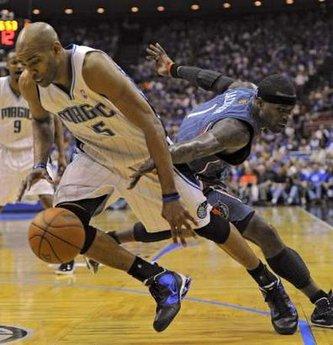 Orlando Magic guard Vince Carter (L) drives past
Charlotte Bobcats guard Stephen Jackson during the
second half of Game 1 of their NBA Eastern Conference
basketball playoff series in Orlando, Florida April 18,
2010.REUTERS/Kevin Kolczynski (UNITED STATES - Tags:
SPORT BASKETBALL)
Orlando, up by 18, five minutes into the third, Charlotte cuts into the lead, Theo Ratliff with the big cram.
Michael Jordan, taking in his first playoff game as Charlotte's owner.
And Charlotte would battle back, to within 5, but the Magic pull away down the stretch, Dwight Howard with the big put back slam.
Then, Mickael Pietrus puts this one to bed in a weird way. Looking to draw the foul, he takes the awkward three, but he hits, the Magic open their playoff run with a 98-89 victory.