Martin Gould beat Marco Fu 10-9. Gould, who is making his 2nd appearance at the World championship finished the first session trailing by just the single frame overnight at 5-4.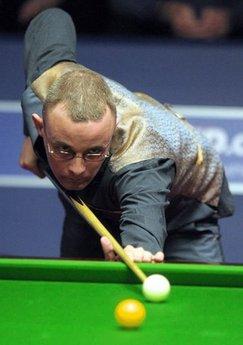 Martin Gould of Great Britain plays
against Marco Fu of Hong Kong during the
World Championship Snooker at the
Crucible Theatre in Sheffield, England.
Fu was the first significant name to fall
in the world championship after the Hong
Kong star squandered an 8-6 lead to lose
his first-round tie with Gould 10-9.(AFP/
Andrew Yates)
But the morning could not have started better for Gould, as he restored parity at 5-5 with a run of 102. Marco Fu, the 2006 semifinalist who has never been behind in the tie, restored his lead at 7-6 and then extended that to 8-6. However, Gould displayed resilience yet again, rattled the next three frames to go in front for the first time in the match at 9-8.
In the 19th frame, Gould took full advantage with a fluent 90 break to seal the win. And unfortunate for Fu, as he suffered his 5th first-round-loss this season.