Juan Antonio Samaranch's 21-year term as president of the International Olympic Committee was marked by the unprecedented growth of the games...as well as some controversies. Here is a closer look at his career.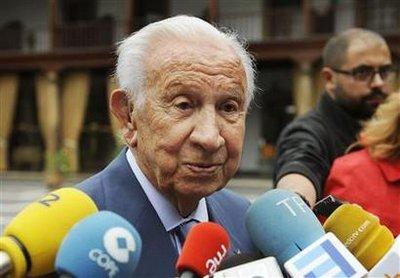 Former International Olympic Committee (IOC) President Juan Antonio
Samaranch speaks to reporters before a Prince of Asturias Award
jury meeting in Oviedo in this September 2009 file photo. Samaranch
has died, the IOC said on April 21, 2010.REUTERS/Eloy
Juan Antonio Samaranch of IOC President says, "The games of 29th Olympic games are awarded to the city of Beijing."
To China and the Chinese people, Samaranch was a great friend. Thanks to his efforts during his last term as IOC President, Beijing and China were awarded the Olympics for the first time...a games many consider the greatest Olympics so far.
This, just part of his remarkable career of promoting the Olympics and the Olympic movement.
Samaranch led the IOC from 1980 to 2001 and was considered one of the defining presidents for building the IOC into a powerful global organization and firmly establishing the Olympics as a world force.
It was in Moscow in 1980, then, a little-known Spanish diplomat, when Samaranch was elected the seventh president of the IOC.
As Samaranch came to power, the IOC was virtually bankrupt and the Olympics were battered by boycotts, terrorism and financial troubles.
When he left, the IOC's coffers were bulging from billions of dollars in commercial revenues, the boycott era was over, and the games were firmly established as the world's favourite sports festival.