Samaranch hold's a special place in the hearts of many Chinese, as he was instrumental in bringing the country into the Olympic spotlight. Here is a look at Samaranch and his relationship with China.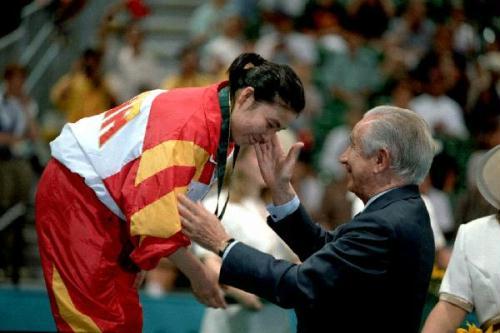 In this file photo taken on July 31, 1996, Juan Antonio Samaranch, former president
of the International Olympic Committee (IOC) flaps gold medalist China's Deng
Yaping's cheek during the awarding ceremony for women's single of table tennis at
26th Olympic Games in Atlanta, United States. Juan Antonio Samaranch died at the
age of 89 on April 21, 2010 in Barcelona after suffering from severe heart attack.
(Xinhua)
In many Chinese people's memory, two historic moments involving Samarach are the most memorable.
Following Samaranch's election as IOC President, he helped China gain a newfound place in the Olympic movement.
Chinese officials quickly attained important positions within the IOC, but Samaranch had another goal for China...to award a Chinese an Olympic gold.
In 1984 on the first day of the Los Angeles Olympics, this came true.
Chinese shooter Xu Haifeng pocketed the first gold in Chinese history, and Samaranch was the one to hang the gold around Xu's neck.
In the following years, Samaranch made great efforts to help Beijing's bid for the 2008 Olympic Games. Ans on July 13th, 2001, Samaranch awarded the 2008 Olympics to Beijing.
Three days later, Samaranch finished his Olympic reign.
In July 2008, the 87-year-old Samaranch came to Beijing to witness the exceptional success of the 2008 Olympic Games.
Samaranch once said he had love and friendship for China and he had learned to love and respect the people. In return, his efforts to promote China within the Olympic movement have earned Samaranch the continued respect and love of many Chinese.
Related stories