With Inter Milan awaiting the winner, Udinese and AS Roma faced off on Wednesday with a spot in the Italian Cup finals on the line. Roma headed into the second leg, with a 2-0 advantage after blanking Udinese in Rome in the first leg.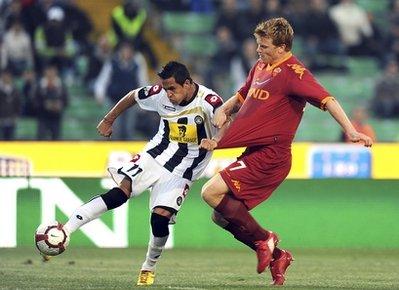 Udinese's Alexis Alejandro Sanchez, of Chile, left, chased by AS
Roma's John Arne Riise, of Norway, scores during the Italian Cup
semifinal second leg soccer match between Udinese and AS Roma in
Udine, Italy, Wednesday, April 21, 2010. AS Roma lined up an
Italian Cup final against Inter Milan despite a 1-0 loss to Udinese.
(AP Photo/Franco Debernardi)
Udinese (white) vs. Roma (red)
Second half, Udinese with a great chance, Alexis Sanchez turns his marker and crosses...but Antonio Di Natale scuffs a good chance high over the bar.
Ten minutes from time, Udinese strike. Sanchez made the most of a long ball, controlling well and firing low through the legs of goalkeeper Julio Sergio. 1-0.
Udinese would continue to press for the equalizer and would get a boost as Roma's Marco Cassetti fouls Sanchez and walks straight off the pitch before being shown the red card by the referee.
He was sent off for a second booking on 84 minutes.
Related stories