Inter Milan climbed back to the top of Serie A with a 3-1 home win over Atalanta on Saturday after manager Jose Mourinho's gamble with their title hopes paid off.
The coach, with an eye on Wednesday's Champions League semi-final second leg in Barcelona, rested most of his starting defence and midfielders.
The ploy worked, with Inter going two points clear pending AS Roma's home match with Sampdoria on Sunday.
But the risk could easily have backfired, however, with just three games left this season.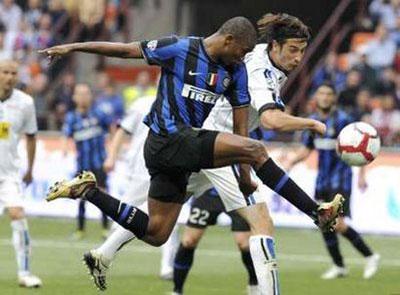 Inter Milan's Samuel Eto'o (L) fights for the ball with Atalanta's
Federico Peluso during their Italian Serie A soccer match at the
San Siro stadium in Milan April 24, 2010. REUTERS/Paolo Bona