Bolivian President: Push for founding of "green" tribunal
2009-09-23 09:05 BJT
Special Report: Hu attends UN, G20 Summits |
Watch Video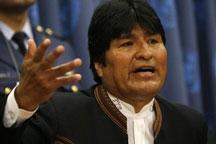 Play Video
Bolivian President, Evo Morales, says his country will push for the founding of an international "green" tribunal to punish nations, corporations and multinational companies that harm the environment.
Morales' proposal is one of hundreds of contentious ideas still outstanding in the run-up to the December international climate change conference to be held in Copenhagen.
"A climate change tribunal for the administration of justice must be created in order to discipline those who fail to recognize the error of their ways. This is why Copenhagen will be very interesting in terms of discussing such issues. This is an issue that is specific to climate change."
Editor: Zhang Pengfei | Source: CCTV.com