China, Bulgaria vow to further ties
2009-10-16 08:38 BJT
Special Report: Xi Visits 5 European Nations |
Watch Video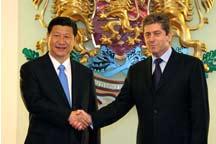 Play Video
Chinese Vice President Xi Jinping is continuing his five-nation European tour. On Thursday, he met with Bulgarian leaders, pledging to further advance bilateral relations. Trade and economic cooperation were high on the agenda.
In a meeting with Bulgarian President Georgi Parvanov, Xi Jinping noted that Bulgaria was the second country in the world to forge diplomatic ties with China.
He said that over the past six decades, the two countries have maintained mutual respect, non-interference in each other's domestic affairs, and bridged differences through consultations.
President Georgi Parvanov pledged to work with China to enhance cooperation.
He reaffirmed that Bulgaria will adhere to the one-China policy. The president also confirmed his participation in the 2010 Shanghai World Expo.
Xi Jinping also met with Bulgarian Prime Minister Boiko Borisov. The Chinese leader encouraged enterprises of both countries to increase exchanges and investment, and explore new areas for further cooperation.
Borisov noted that Bulgaria and China share a traditional friendship, adding that the country will never change its friendly policy towards China.
Related stories