Watch Video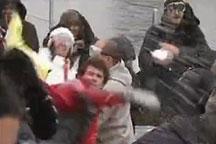 Play Video
Despite a steady drizzle, dozens of people staged an artificial snowball fight in the heart of Paris on Wednesday.
Packed onto a pair of barges, and equipped with gloves and snow goggles, two competing groups pelted each other with faux snow as they cruised down the River Seine.
A French ski resort organized the event to mark the one month countdown to the opening of the slopes.
The fake fight was aimed at convincing residents in the French capital to forget about the recession and climate change, and head for the hills instead.