Afghan election: A look back
2009-11-03 09:08 BJT
Special Report: Afghan presidential election |
After a lengthy two-month ordeal, a resolution has been reached in Afghanistan's presidential election. Let's review the key steps in the process.
The election is the second in Afghanistan since the Taliban was toppled in 2001. The first round of voting was held on August 20th, with President Hamid Karzai and former Foreign Minister Abdullah Abdullah as the two leading candidates. By September the 16th, preliminary results by the Afghan election authority showed Karzai winning 54.6 percent of votes.
However, a fraud investigation conducted by the UN, pushed Karzai's total below the 50 percent victory threshold. On October 20th, the Independent Election Commission announced Karzai will face Abdullah in a second round of voting on November 7th. But, Abdullah withdrew from the race Sunday, leaving the IEC to declare Karzai the elected President.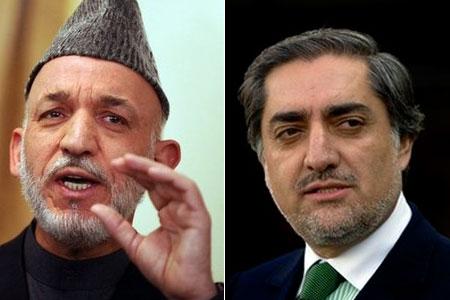 President Hamid Karzai(L) and former Foreign Minister Abdullah Abdullah(R).