China, Africa pledge to build closer ties
2009-11-10 08:56 BJT
Special Report: China-Africa Cooperation Forum |
The 4th Ministerial Conference of the China-Africa Cooperation Forum wrapped up in the Egyptian city of Sharm el-Sheikh. At the conclusion of the event, both sides are pledging closer political, social and economic ties.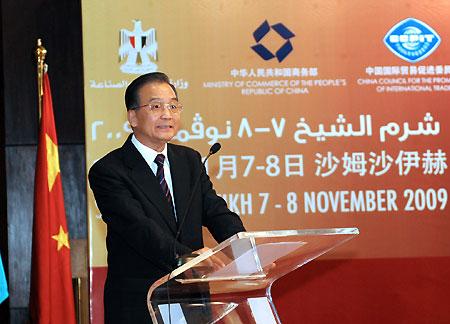 Chinese Premier Wen Jiabao speaks during the 3rd Conference of Chinese,
African Entrepreneurs in the Egyptian Red Sea resort of Sharm el-Sheikh on
Nov. 7, 2009.(Xinhua/Li Tao)
The meeting adopted the Declaration of Sharm el-Sheikh and the Sharm el-Sheikh Action Plan, defining new programs of cooperation in the next three years. Leaders agree to increase cooperation in areas like agriculture, health care, energy and infrastructure projects.
Chinese Foreign Minister Yang Jiechi says China and African nations will intensify practical cooperation in economy, trade, and culture. The conference reviewed the implementation of the follow-up activities of the FOCAC Beijing Summit in 2006. Many African countries are expressing their appreciation for China's effort to assist Africa in achieving real development and reducing the gap in technological know-how.