Two Chinese pandas are going abroad on a historic voyage to Australia. The bamboo eating duo is expected to enjoy a very warm welcome in the Land Down Under.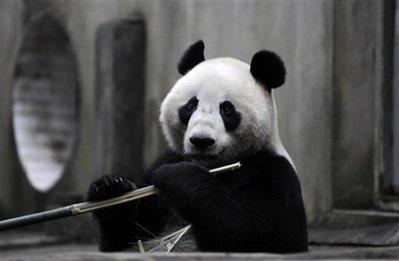 Four-year-old male panda Wang Wang eats bamboo at the Bifengxia Giant
Panda Breeding Center in Ya'an, China's Sichuan province Thursday Nov.
26, 2009. Wang Wang and three-year-old female panda Fu Ni will start
their journey to the Adelaide Zoo on Friday and stay in Australia for
10 years. China is sending the pandas to an Australian zoo on a 10
year loan as part of a joint research program. (AP Photo)
Three year old Fu Ni and four-year old Wang Wang are not "Kong Fu Pandas," but both animals are extraordinary nonetheless. The tandem has been chosen to serve as China's ambassadors to the Adelaide Zoo.
On Friday, the pandas pairing boarded a plane bound for Australia. They will take up residence at their new home there for the next decade.
On the other side of the equator, everything has been put in place to make the two friends from afar feel right at home.
Fu Ni and Wang Wang's new abode was recreated in the style of their previous den in China. This ensures a familiar environment.