Severe cold weather hits Europe
2009-12-19 08:58 BJT
Special Report: Heavy Snow Hits Europe, US |
Severe weather has continued to hit Europe for a second consecutive day. The cold front comes amid forecasts of more snowfall one week ahead of Christmas.
In Poland, the cold snap caused major disruptions to traffic. Temperatures plummeted in the capital Warsaw, where heavy snow caused havoc on the roads.
Trains also ran into trouble. In the southwestern city of Wroclaw, temperatures fell to minus 12 degrees Celsius and caused trips to be delayed up to two and a half hours.
Train commuter of Wroclaw in Poland said, "No one is coping well with this. Particularly the railways, they're not coping."
In Ukraine, armored vehicles from the Emergency Control Ministry were dispatched to help motorists stuck on the roads.
The weather has also been deadly. On Thursday, nine people were killed in separate accidents triggered by the cold.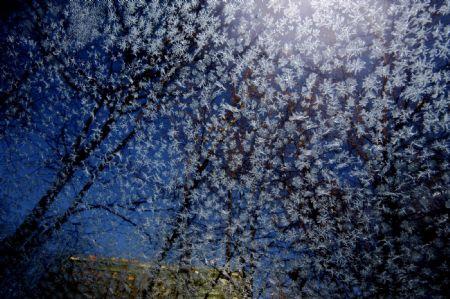 Trees are seen through the glass covered with ice crystals in Moscow,
capital of Russia, Dec. 18, 2009. Commuters and air passengers faced
delays and disruption across many countries of Europe on Friday, after
heavy snowfall with the forecaster saying more was on the way.
(Xinhua/Lu Jinbo)