The Chairman of the US Federal Reserve, Ben Bernanke, says the country should continue its low-interest policy. He added that the best way to restrain the housing bubble is strengthening supervision, and not monetary policies.
Bernanke made the remarks at an annual meeting of the American Economic Association in Atlanta. Critics have said the US central bank kept interest rates too low in the early 2000s. But Bernanke has argued that regulatory failure, not lax monetary policy, was responsible for the housing bubble and subsequent financial crisis.
Moreover, Bernanke stated that cross-country evidence shows no significant relationship between monetary policies and the pace of housing price increases.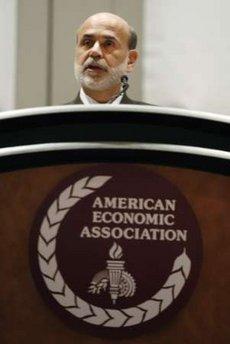 Federal Reserve Chairman Ben Bernanke
speaks during a presentation at the
American Economic Association Conference
in Atlanta, Georgia, January 3, 2010.
Bernanke on Sunday repeated his confidence
that the Fed will be able to withdraw its
extraordinary support for the economy
when the time comes.REUTERS/Tami Chappell
Related stories
Editor: Du Xiaodan | Source: CCTV.com