In Albania, more than two-thousand houses and ten-thousand hectares of land are flooded after days of torrential rains.
The situation is the worst in central and southern parts of the country, where flood waters are raging through villages after several smaller rivers spilled over their banks.
Thousands of people have been evacuated.
Many countries in the region, including Italy and Greece have sent aid to Albania.
Meanwhile, Bosnia is also suffering from days of torrential rains. More rains are forecast in the coming days.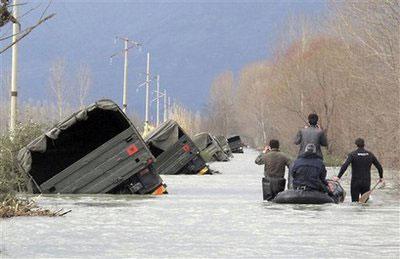 Albanian army rescuers and villagers pass by a convoy of trucks
pushed to the side of the road by flood water on the outskirts
of Bacallek, near the city of Shkodra, Sunday, Jan. 10, 2010.
(AP Photo/Hektor Pustina)
Editor: Zhang Pengfei | Source: CCTV.com