Cold weather leaves 6 dead in Germany
2010-02-01 10:18 BJT
Special Report: Snowy Northern Hemisphere |
Freezing weather continues to batter Germany. Heavy snow and high winds have caused traffic chaos and hundreds of accidents, leaving at least six people dead.
Germany's severe winter is brutal to both man and beast.
Firefighters managed to rescue two horses trapped in a half-frozen lake on Sunday in Lower Saxony.
But in Cologne, a 24-year-old man died after trying to rescue his dog, which had broken through the ice on a frozen lake.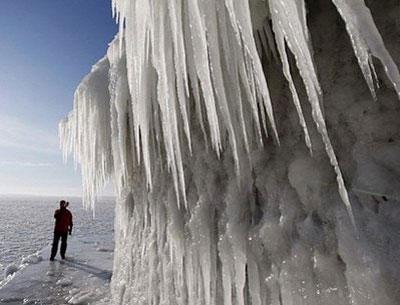 A man takes a photo of icicles on a thickly frozen jetty in
Sassnitz on the Baltic Sea island Ruegen, northern Germany.
(AFP/DDP/Jens Koehler)