Iranian Foreign Minister, Manouchehr Mottaki, has said he had a "very good meeting" on nuclear fuel exchange deal with the IAEA's new chief.
Tehran plans to swap its low-enriched uranium for higher-grade nuclear fuel.
Mottaki reiterated Iran's interests for a nuclear fuel exchange program on the sidelines of the Munich Security Conference. He was optimistic about achieving a positive outcome with the IAEA.
Manouchehr Mottaki, Iranian Foreign Minister, said, "I spoke with Mister Amano about cooperation between Iran and the IAEA, and some general issues regarding the idea of fuel exchange."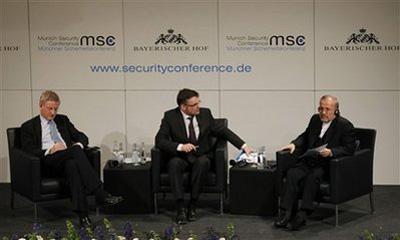 Iranian Foreign Minister Manouchehr Mottaki, right, and Carl Bildt,
Minister of Foreign Affairs of Sweden, left, are seen during the
annual Munich Security conference in Munich, southern Germany,
on Friday, Feb. 5, 2010. Center is moderator Stefan Kornelius.
(AP Photo/Matthias Schrader)