Iran says it began enriching uranium to a higher level on Tuesday. The move comes despite objections from Washington and its allies.
Iran's Atomic Energy Organization says the country has started producing enriched uranium at a 20 percent grade at its Natanz facility.
A Foreign Ministry spokesman says Iran is still open to discussing a deal to swap nuclear fuel with other nations. But he adds that such an exchange would not require Iran to relinquish other ways of obtaining the fuel.
He also says any plan by the West to impose new UN Security Council resolutions will not help resolve the dispute.
Ramin Mehmanparast, Iranian Foreign Ministry Spokesman, said, "It is very wrong if some countries, such as the US and France, move toward more resolutions and sanctions. Such actions will not help in moving beyond the impasse. If they think the Iranian people will back down from their nuclear rights, they are making a big mistake."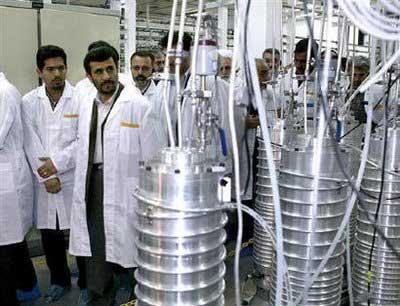 Iranian President Mahmoud Ahmadinejad (2nd L) visits the Natanz
nuclear enrichment facility, 350 km (217 miles) south of Tehran,
April 8, 2008. REUTERS/Files
Editor: Zhang Pengfei | Source: CCTV.com