Tiger year celebration in Taiwan, HK and Macao
2010-02-15 08:30 BJT
Special Report: 2010 Spring Festival |
It's not just mainland Chinese ushering in the New Year. Residents in Taiwan, Hong Kong and Macao celebrated in traditional but different ways.
The first day of the Chinese Lunar New year is a perfect day to go to the temple and pray for abundance.
In Taipei, two thousand red envelopes containing lucky money are prepared early in the city's god temple. Residents line up for the packets of 10 yuan as a sign of prosperity in the new year.
Resident, said, "If you pray on it, then the gods will bless you."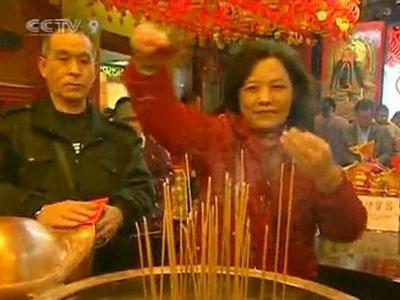 The first day of the Chinese Lunar New year is a perfect day to go
to the temple and pray for abundance.(CCTV.com)