Iranian state television has reported that the country has launched its first Iranian-built destroyer. Iran's Supreme Leader Ayatollah Ali Khamenei attended the launch ceremony.
Khamenei described the production of the destroyer as "valuable". He said he hoped that God would pave the way for future advancements. The guided-missile destroyer is equipped with torpedos, surface-to-air missiles and naval cannons.
The report said the 94-meter destroyer weighs 1,500 tons and has a helipad and modern radar equipment. The ship has a top speed of 30 knots and can carry a crew of between 120 and 140.
In its latest report, The UN nuclear watchdog raised fears Iran might be working towards developing a nuclear payload for a missile.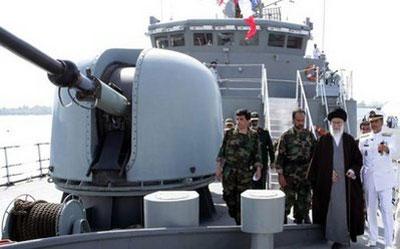 Iranian Supreme Leader Ayatollah Ali Khamenei (2nd right) tours the
warship "Jamran" at an undisclosed location in southern Iran.(AFP/HO)