Friday was the sixth day of the Year of the Tiger, the end of the Spring Festival holiday for most people. Railway stations sending people back to work have encountered their busiest time of the year, making do with what they have.
1.63 million passenger trips on Thursday...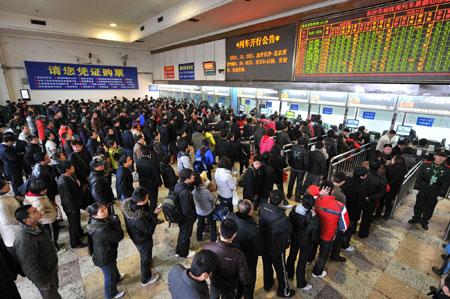 Passengers queue up to buy tickets at the railway station in Changsha,
capital of Hunan Province, Feb. 19, 2010.[Xinhua]
And the number for Friday was expected to be even bigger.
Railway stations have initiated different measures to strengthen the transportation capacity nationwide.
Fan Juan, Director, Taiyuan Railway station, Shangxi Province, said, "Sleepers have been turned into seats to accommodate more passengers, till the end of February."
The economic recovery has brought the start date forward for many companies, moving the return travel rush two or three days earlier than before.
In the southern city of Guangzhou, the passenger influx is expected to reach 200-thousand per day. Most of them are migrant workers returning to work.
Adding temporary trains is one of the measures to ease the pressure. Railway authorities predict that the passenger flow may surpass 500-thousand per day in Guangdong Province alone from Friday to Sunday. And train stations in other big cities, like Beijing, Wuhan, Nanchang, are also gearing up for the travel peak.
In addition, road transportation is also one of the popular choices for many relatively-short-distance journeys.
I Yuelin, Director Nanjing's Long-distance Bus Station, said, "Most of them will be travelling for three or four-hours. Almost all the shuttles are full."
According to railway authorities, the rush time will be longer than previous years with the large number of travellers continuing for some time.
Editor: Du Xiaodan | Source: CCTV.com