The tsunami that was triggered by Chile's earthquake has severely damaged its coastal resort of Pichilema. Meanwhile, refugees in the city of Talca are getting desperate.
A Chilean coastal resort town. Once world renowned for its surfing, Pichilema failed to survive the massive waves.
Very few buildings remain standing. Boats have been swept considerable distance inland.
Jose Gonzalez, City Hall Employee, said, "The waves looked like a massive snake, with water behind it. The mass of water was a meter and a half high, and swept away everything in its path."
On the road between Pichilemu and Talca, dozens of cars line up for gas.
Meanwhile in the city of Talca itself, makeshift refugee camps have sprung up. Locals complain about their living conditions.
Major Reynaldo Zeilaide of the Chilean Army says forces under his command are prepared to offer help.
Major Reynaldo Zeilaide, Chilean Army, said, "The situation in the entire south of the country is rather chaotic. Many hospitals have been damaged. The army will help the community with sanitation and other assistance."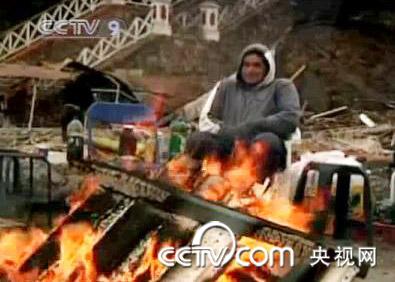 Refugees in the city of Talca are getting desperate.
Saturday's 8.8 magnitude quake has so far killed more than 700 people and the death toll is expected to rise.
Related stories
Editor: Yang Jie | Source: CCTV.com