The top advisory body, the Chinese People's Political Consultative Conference, or the CPPCC, is about to start its annual session on Wednesday afternoon. That's two days ahead of the plenum of the National People's Congress, the country's top legislature. A CPPCC spokesman has called for more engagement between China and the US.
Commenting on the recent woes in Sino-US relations at a press conference on Tuesday, CPPCC spokesman Zhao Qizheng said the two countries should move forward with more engagement and less containment in order to realize their respective interests. Zhao compares Sino-US relations to a car with two drivers.
Zhao Qizheng said, "I believe the Americans need to understand that the China-US relationship is just like a car. There are two drivers instead of one - one Chinese and an American. They both have wheels and brakes. So they have to discuss with each other how to drive this car forward on the right track. Otherwise the car will only spin around back to where they were."
Zhao Qizheng also elaborated the role of the CPPCC members in building a harmonious society. He says the CPPCC system reflects the characteristics of a fully-dimensional Chinese democracy.
Zhao Qizheng said, "When I say that the greatest power of the CPPCC is the power of voice. It does not mean that the members can only make their voices heard, but they also need to ensure that what they say is authoritative and effective."
Zhao says the upcoming session will last 11 days. More than 2,200 members from all walks of life will discuss and deliberate major reports, such as the CPPCC National Committee work report, the government's work report. They will also put forward proposals, discuss and debate state affairs.
Transformation of China's economic development pattern, the development of a low-carbon economy and areas that are closely related to people's lives, such as education and health care, will be major issues on which political advisors will focus.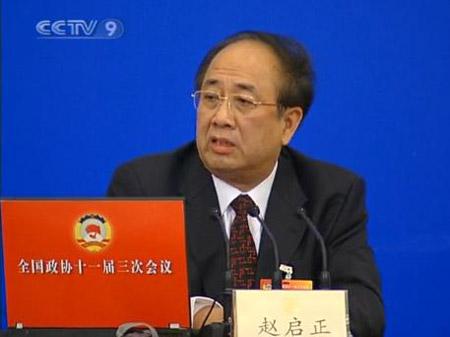 CPPCC spokesman Zhao Qizheng
Liu Ying, Reporter, said, "Besides discussing and deliberating over regular reports, another important agenda item at this year's annual sessions of the NPC and CPPCC is to amend the Electoral Law for the fifth time. One highlight of the draft amendment is to require both rural and urban areas to adopt the same ratio of deputies to the legislatures. The legislation, if adopted, is seen as progressing China's political and democratic process. Liu Ying, CCTV, Beijing."
Related stories
Editor: Yang Jie | Source: CCTV.com