Panic spreads in quake zone as aftershocks shake residents
2010-03-04 08:41 BJT
Special Report: 8.8 Magnitude Earthquake Hits Chile |
A pair of aftershocks only six seconds apart have hit the quake zone in Chile, provoking a brief panic among citizens.
The rumor of a tsunami warning spread fast among locals and journalists, with some residents of Concepcion running for higher ground.
But it appeared to be a false alarm as no tsunami warning was issued and no injuries or damage were reported.
The US Geological Survey says Wednesday's tremors both had preliminary magnitudes of around 6 on the Richter scale.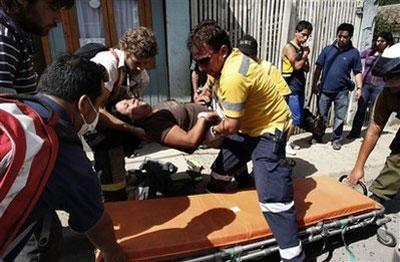 A woman, victim of a panic attack after a tsunami alert, is loaded
on a stretcher in Constitucion, Chile, Wednesday, March 3, 2010.
A 8.8-magnitude earthquake hit Chile early Saturday.
(AP Photo/Fernando Vergara)
Editor: Zhang Pengfei | Source: CCTV.com