Chilean soldiers assist rescue operations
2010-03-04 08:41 BJT
Special Report: 8.8 Magnitude Earthquake Hits Chile |
Chilean soldiers are helping clean up the country's ravaged coastline.
The efforts come in the wake of Saturday's earthquake and subsequent tsunami which swept ashore, causing huge damage and hundreds of deaths. On Wednesday, the official death toll reached 799.
The magnitude-8.8 quake and tsunami battered a 700-kilometer stretch of Chile's Pacific coast.
In the earthquake-ravaged city of Concepcion, residents are trying to salvage any goods they can from shops as supplies still remain low.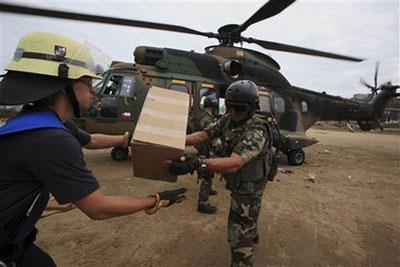 Troops and firefighters unload aid from a military helicopter in
Dichato, Chile, Wednesday, March 3, 2010.(AP Photo/Ricardo Mazalan)