Chilean police raid outskirts of Constitucion
2010-03-09 08:29 BJT
Special Report: 8.8 Magnitude Earthquake Hits Chile |
Chilean police raided a house on the outskirts of Constitucion on Monday, and found dozens of boxes of food that had been taken in the days after the earthquake.
Police were operating in the area at the request of the army, which had previously asked locals for information and the names of looters. At least one man was detained.
A 41 year old local man, whose brother was detained, said the looting was necessary since people need food, and that it was widespread.
Other locals whose homes were raided criticized the police for acting on faulty information. The widespread looting after the quake in Chile has mostly been quelled. But looters were still breaking into factories as late as Friday in some cities.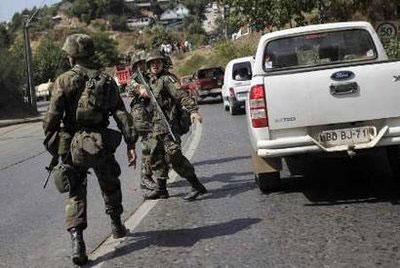 Chilean soldiers try to maintain order as residents drive
hurriedly away from the coast to higher ground after
a tsunami warning was issued following a strong aftershock,
in Constitucion, March 3, 2010. REUTERS/Ivan Alvarado
Related stories
Editor: Zhang Pengfei | Source: CCTV.com