3 years to rebuild Chilean hospitals
2010-03-09 08:29 BJT
Special Report: 8.8 Magnitude Earthquake Hits Chile |
Chile's Health Minister said it will cost an estimated 3.6 billion US dollars over three years to repair and rebuild all the hospitals damaged in the quake.
Alvaro Erazo toured a field hospital donated by Brazil on Monday. It was set-up in one of the poorest neighborhoods in Santiago, and has already started vaccinations for the H1N1 flu.
It could be kept in the quake-hit Chilean capital for over two months, as authorities work to repair damaged medical facilities.
The Brazilian unit will eventually be replaced by temporary medical clinics, which will operate until the new hospitals are built.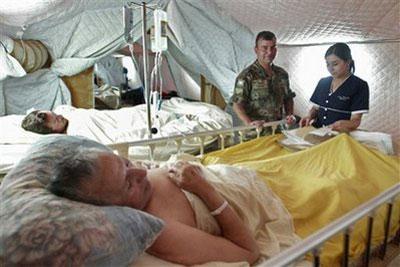 Earthquake victims lie in beds in a field hospital in Talca,
Chile, Wednesday, March 3, 2010. (AP Photo/ Cristobal Fuentes)
Editor: Zhang Pengfei | Source: CCTV.com