Strong aftershock hits central Chile
2010-03-12 08:28 BJT
Special Report: 8.8 Magnitude Earthquake Hits Chile |
Strong aftershocks rocked central Chile on Thursday, just as the country's new president was being sworn into office.
Sebastian Pinera was inaugurated at a congressional building in coastal city of Valparaiso before the building was evacuated as a precaution. He immediately urged coastal residents to move to higher ground in case of a tsunami.
The strongest aftershock had a magnitude of 6.9. The aftershocks swayed buildings and sent frightened Chileans streaming into streets.
Plumes of dust rose near buildings damaged in the devastating earthquake which struck Chile 12 days ago.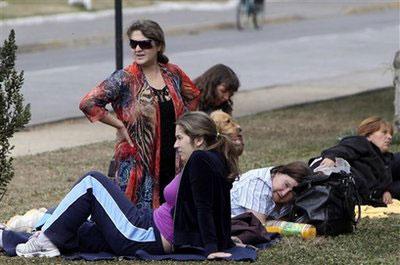 People wait outside their homes after an aftershock in Talcahuano,
Chile, Thursday, March 11, 2010. (AP Photo/Silvia Izquierdo)