Chile's new president: Reconstruction is priority
2010-03-12 08:28 BJT
Special Report: 8.8 Magnitude Earthquake Hits Chile |
Chile's new president Sebastian Pinera has made a lightning-quick visit to Rancagua, the town at the epicenter of strong aftershocks which rattled his inauguration ceremony on Thursday.
Earlier in the day, Pinera said the aftershocks caused "significant damage" in Rancagua, a city almost 100 kilometers south of the capital, but officials later said there were no reports of damage or fatalities.
Sebastian Pinera, Chile's new president, said, "We have decreed a state of catastrophe, anticipating the situation in order to facilitate the control of public order, in order to facilitate aid for the emergency and to accelerate the reconstruction process."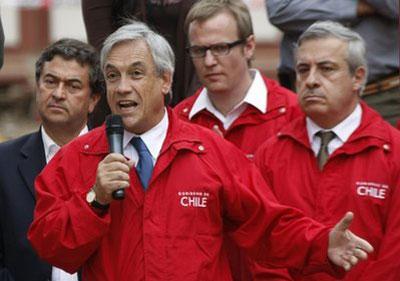 Chile's President Sebastian Pinera speaks in Constitucion, Chile,
Thursday, March 11, 2010. Pinera was sworn in on Thursday.
(AP Photo/Fernando Vergara)