Two car bombs have struck the Iraqi city of Kerbala, killing five people and wounding 64 others.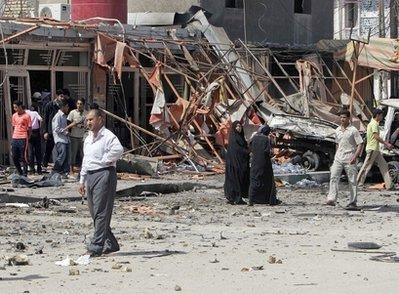 Iraqis inspect the scene of a bomb attack in central Karbala, 80
kilometers (50 miles) south of Baghdad, Iraq, Monday, March 29, 2010.
A pair of car bombs went off in the holy city of Karbala.
(AP Photo/Ahmed al-Husseini)
The bombs hit a restaurant and a security checkpoint one kilometer from the Imam Hussein shrine, one of the holiest sites for Shi'ite Muslims, in Kerbala, 100 kilometers south of Baghdad. The blasts were about 500 meters from the provincial offices.
Witnesses say a reporter and a cameraman from Baghdad Satellite channel were seriously wounded in the blast. Afterwards, police heightened security around the Imam Ali shrine in the Shi'ite holy city of Najaf, about 160 km south of Baghdad.
Related stories
Editor: Zhang Ning | Source: CCTV.com