In Thailand, anti-government demonstrators have clashed with security forces in Bangkok. At least 15 people were killed and more than 650 others were injured. Red-shirt protestors have also taken Thai soldiers hostage.
Soldiers and police officers fought pitched battles with anti-government demonstrators, on streets shrouded in tear gas on Saturday night.
The fighting broke out around Bangkok's Democracy Monument, near one of the encampments of the Red Shirt protesters. But it soon spread to popular tourist hub, Khao San Road.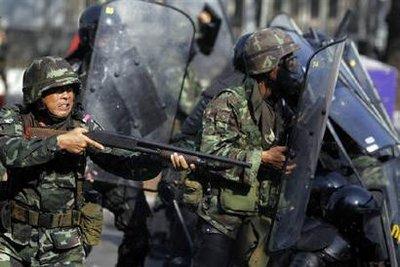 Thai soldiers fire their weapons at anti-government "red shirt"
protesters during clashes in central Bangkok April 10, 2010.
REUTERS/Damir Sagolj
The military says red-shirt protesters armed with guns and explosive devices attacked soldiers, resulting in a number of injuries.
Troops responded by firing their guns in the air, to pressure the demonstrators to retreat.
The soldiers later retreated, and urged protesters to do the same.
Gol. Sansern Kaewkamnerd, Thai Army Spokesman, said, "Our security forces have now retreated to a certain extent from the red-shirts. We hope that the red-shirt leaders will coordinate a retreat from protesters as well."
A government spokesman said the red-shirts have taken 28 soldiers hostage. The army is negotiating with the protesters to secure the release of the soldiers.
Prime Minister, Abhisit Vejjajiva, expressed his sorrow late on Saturday for the deaths in the clashes. He pledged to conduct independent probes into the deaths.
Red-shirt protesters began their rolling rally in the Thai capital on March the 12th. They are calling on Abhisit to dissolve the parliament and hold a new election.
Related stories
Editor: Du Xiaodan | Source: CCTV.com