Kyrgyz president could face trial
2010-04-12 08:57 BJT
Special Report: Unrest in Kyrgyzstan |
Kyrgyzstan's interim government is considering trying President Kurmanbek Bakiyev, for the 81 deaths during the country's unrest. Last week's uprising ousted Bakiyev's government, and forced the deposed leader to retreat to his stronghold in southern Kyrgyzstan.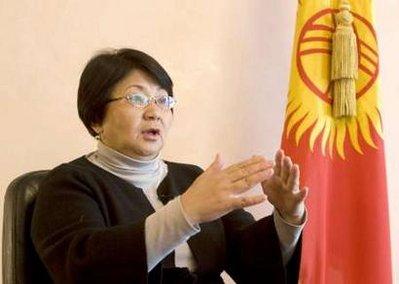 Roza Otunbayeva, the interim government leader, speaks during an
interview with Reuters in Bishkek April 11, 2010. Interim leader
Otunbayeva told U.S. Secretary of State Hillary Clinton by phone on
Saturday she would honour the previous government's agreements on
the Manas base, Clinton's spokesman said in a statement.
REUTERS/Vasily Fedosenko
Kyrgyz President Bakiyev remains locked in a tense stand-off with the provisional government led by Roza Otunbayeva.
The interim leader refused to hold talks with Bakiyev, or vouch for his security against those seeking revenge following the violence.
Kyrgyz interim leader Roza Otunbayeva said, "We have held no talks. The public strongly opposes such dialogue. Bakiyev is hiding because relatives and friends of those who were killed seek revenge for their bloodshed."
Related stories