Sudan's President, Omar Hassan al-Bashir, has cast his vote in the first multi-party elections in 24 years.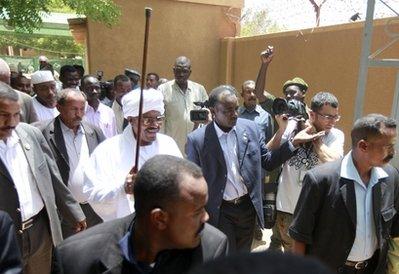 Sudanese President and presidential candidate Omar al-Bashir raises
his stick as he is greeted by a supporter, after casting his vote
for Sudan's first multiparty elections in decades in Khartoum, Sunday,
April 11, 2010. The elections were billed as a chance to bring democracy
to Sudan and start to heal a history of turmoil.(AP Photo/Amr Nabil)
After exchanging greetings with his supporters, Bashir took ten minutes to cast his vote at a Khartoum polling station on Sunday. There, queues were dominated by voters from the army and security services.
Bashir, seems certain to win another four-year term. Leading opposition parties pulled out of the elections in most of northern Sudan, accusing Bashir's powerful ruling party of fraud. Media reports, say the three-day election is a key indicator of whether Sudan can fend off renewed conflict and humanitarian crisis, as it heads toward a 2011 referendum that could bring independence for south Sudan.
Editor: Zhang Ning | Source: CCTV.com