Bakiyev may be given incentive to leave
2010-04-13 08:39 BJT
Special Report: Unrest in Kyrgyzstan |
The head of Kyrgyzstan's interim government has met European Union representatives. Roza Otunbayeva says President Kurmanbek Bakiyev may be offered an incentive to leave the Central Asian country.
Roza Otunbayeva met the EU representatives in the capital, Bishkek. She says the future of the ousted president was discussed.
Roza Otunbayeva, Head of Kyrgyzstan's interim government, said, "Everyone is calling on Bakiyev to leave the Kyrgyz people alone, for Bakiyev to find himself a place outside Kyrgyzstan. Bakiyev has certainly raised the question: what will I get in return? This question is being discussed at the moment."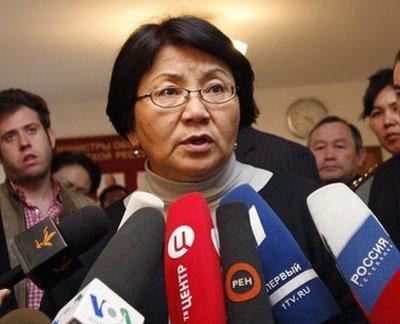 Kyrgyzstan's interim government leader Roza Otunbayeva speaks
to the media in Bishkek, Kyrgyzstan, on Monday, April 12, 2010.
(AP Photo/Nina Gorshkova)