China's position on Iran nuclear issue
2010-04-13 19:39 BJT
Special Report: Hu Attends 2 Summits, Visits 3 Nations |
China has reiterated its position on the Iran nuclear issue. The Foreign Ministry believes diplomatic negotiation is the way for concerned parties to help solve the issue.
When answering the question about the Nuclear Summit being held in the US, Foreign Ministry Spokeswoman Jiang Yu says China will continue to uphold the international nuclear non-proliferation regime, and maintain peace and stability in the Middle East.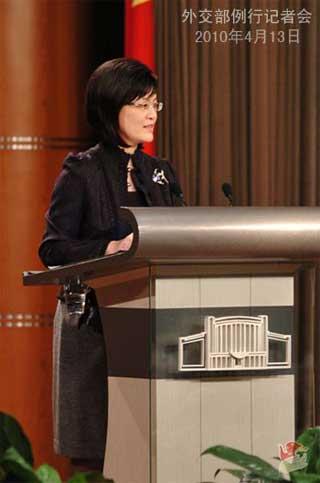 Jiang Yu, FM spokeswoman
Jiang Yu, FM spokeswoman, said, "We oppose Iran owning nuclear weapons. We also support a two-pronged strategy. We insist dialogue and negotiation are the best ways to solve the issue. Sanctions will not be the solution."
Jiang says actions taken by the UN Security Council should help ease the Iran nuclear issue.
Jiang also says the concerned parties are working on the possibility of restarting the Six Party Talks pertaining to the DPRK nuclear issue.
Jiang Yu said, "We hope the concerned parties keep contact on the issue, and take a flexible attitude so as to restart the talks as soon as possible."
The spokeswoman says China, as a neighbor and friend of both DPRK and South Koreas, hopes to see reconciliation between the north and the south.
Related stories
Editor: Liu Fang | Source: CCTV.com