Polish investigation points at Human error
2010-04-14 09:37 BJT
Special Report: Polish President Dies In Plane Crash |
Residents of Warsaw lined up for hours to pay their last respects to their first couple. Polish President Lech Kaczynski and his wife... lie in state at the Presidential Palace. Meanwhile, investigators are pointing to human error as the cause of the plane crash which killed 96 people.
Kaczynski and his wife, Maria Kaczynska, were among those killed on Saturday in the crash in Western Russia.
Mourners knelt, prayed and cried before the first couple's coffins in the Columned Hall of the palace. The line to get in stretched more than a kilometer.
Parliament held a special observance on Tuesday in memory of the victims, and a requiem was also held at Warsaw's St. John the Baptist Cathedral.
Russian investigators are continuing to scour the remains, and suggest human error may have been to blame.
Sergei Ivanov, Russian Deputy Prime Minister, said, "Preliminary analysis, decoding of the flight data and results of work at the scene of the accident has showed that there was neither a fire nor an explosion on board the plane before the crash. The plane was functioning fine until the moment of impact."
Ivanov says investigations are likely to continue until the end of the week.
So far, 87 bodies have been recovered and 40 of them identified.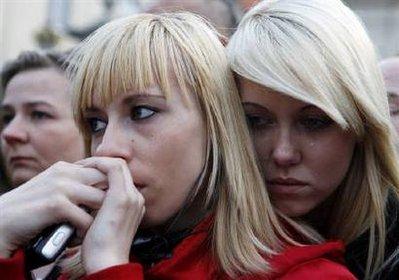 Two girls comfort each other in front of the Presidential Palace
in Warsaw's city center April 12, 2010.