Kyrgyzstan's deposed president wants conditions...he'll resign IF safety for him and his family is guaranteed. But the country's interim leader says that's only possible...if he leaves the country.
Surrounded by bodyguards, Bakiyev told a news conference in his home village of Teyit that he would consider resigning if the interim authorities could guarantee his own security and that of his family members and those close to him.
Kurmanbek Bakiyev, ousted Kyrgyz President, said, "In what case would I resign? First of all, they should guarantee that in Kyrgyzstan there are no more people walking around with weapons, outrages with the use of arms, seizures of property or redistribution of property. Also, naturally, my own security and the security of members of my family and those close to me."
However Roza Otunbayeva, the interim leader, says her government is offering security guarantees only for him if he steps down and leaves the country.
Roza Otunbayeva, Kyrgyz Interim Leader, said, "From the very beginning, from April 7th, we have stated that we guarantee his security according to the constitution. But after seeing the scale of his crime, we believe that he went beyond the limit of the law. Society and people demand that we take him to court and call him to account."
However, Otunbayeva has declined to offer immunity to his family.
She also says her government's patience with Bakiyev is running out, accusing him of "warlike rhetoric".
Bakiyev fled the capital to his home in the southern part of the country last Wednesday after a protest rally in the capital erupted into shooting and chaos, killing at least 83 people. He has also proposed that Otunbayeva come to his southern home base for talks.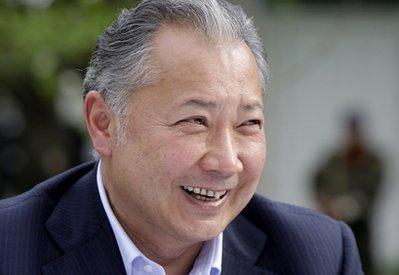 Kyrgyzstan's deposed President Kurmanbek Bakiyev smiles as he speaks
during a news conference in the courtyard of his family home, in
the village of Teyit, in the Jalal-Abad region, southern Kyrgyzstan,
Tuesday, April 13, 2010.Bakiyev said Tuesday he is willing to resign
if his security is guaranteed.(AP Photo/Sergei Grits)
Related stories
Editor: Du Xiaodan | Source: CCTV.com