US, Russian financial aid to Kyrgyzstan
2010-04-15 10:39 BJT
Special Report: Unrest in Kyrgyzstan |
US Assistant Secretary of State Robert Blake met with officials from the Kyrgyzstan interim government on Wednesday, in the capital Bishkek. Blake says the United States is ready to provide assistance to the country. On the same day, Russia also pledged to provide 50 million US dollars in grants and loans. He Mingzhi has the details.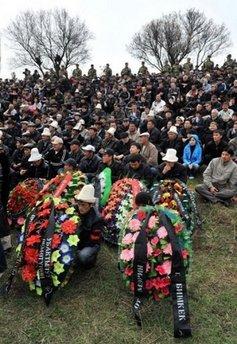 Kyrgyz people attend mass burials at
the Ata-Beyit memorial complex outskirts
of Bishkek. The United States has
started sending aid to Kyrgyzstan after
the unrest this week in which scores were
killed and saw the opposition seize
control of the Central Asian nation, the
US embassy said Saturday.(AFP/Vyacheslav
Oseledko)
Robert Blake laid a wreath in the Kyrgyz capital, in memory of people who died last week, during the violent protests and gun battles when demonstrators seized government buildings.
He met with officials in the Central Asian Republic, including the head of the provisional authority, Roza Otunbayeva, and defense ministry personnel. He says Washington will offer assistance to the interim government in Kyrgyzstan.
Robert Blake, the U.S. assistant secretary of state, says, "The United States is prepared to help.I feel optimistic about the steps that the government already is taking and we look forward to helping to support that process as it moves forward."
Related stories