Bodies from Smolensk plane crash arrive home
2010-04-15 10:39 BJT
Special Report: Polish President Dies In Plane Crash |
A special C-17 aircraft carrying the bodies of 30 victims of the Smolensk plane crash landed in Warsaw military airport on Wednesday.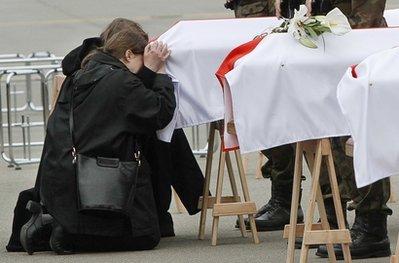 Relatives mourn at the coffins of victims of Saturday's Polish
government aircraft crash near Smolensk, Russia, during a
repatriation ceremony at an airport in Warsaw, Poland, Wednesday,
April 14, 2010.(AP Photo/Czarek Sokolowski)
In the presence of relatives and friends of the victims, soldiers carried out the coffins from the plane, each one draped in a white and red flag. They were laid out side-by-side on the tarmac at the airport before being ferried into town.
Among them were the remains of the central bank head Slawomir Skryzpek and Polish Olympic Committee chief Piotr Nurowski. The coffins will later be transported to places in accordance with the wishes of families. Investigators have suggested that human error may have been to blame for Saturday's crash.
Related stories