Vice Premier specifies rescue timetable
2010-04-16 08:24 BJT
Special Report: 7.1-magnitude Quake Hit Qinghai, China |
Vice Premier Hui Liangyu is in Jiegu Township overseeing the relief work of the Yushu earthquake. He presided over a meeting with local officials and specified a timetable for the rescue efforts.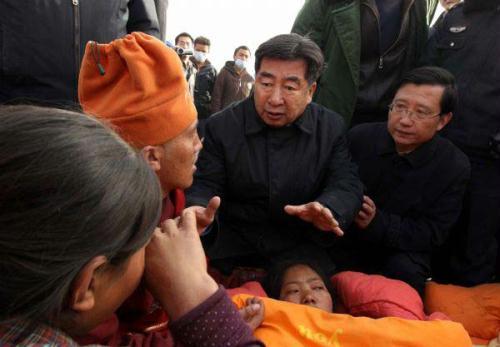 Chinese Vice Premier Hui Liangyu (C) talks with local residents in the Tibetan
Autonomous Prefecture of Yushu, northwest China's Qinghai Province, April 15, 2010.
The State Council of China has set up a quake-relief headquarters, with Vice
Premier Hui Liangyu as the head, to take care of disaster relief, epidemic prevention,
seismic monitoring and public security. Hui arrived the quake-hit region Wednesday to
comfort local people and supervise the disaster relief work.(Xinhua/Ding Lin)
The main targets of the schedule are: Transport and communication facilities should be restored in 24 hours, something that has already been achieved.
Electricity and petrol supplies should be guaranteed within 48 hours, especially in important venues such as the quake relief headquarters and hospitals.
Within 48 hours, all quake-affected people should have access to tents to sleep in.All people seriously injured in the quake should be transferred out of the quake zone for treatment within 72 hours, to places including Xining, Chengdu, Lanzhou, and hospitals run by the People's Liberation Army.Each bereaved household is to receive five thousand yuan in cash from the central budget.
Editor: Zhang Ning | Source: CCTV.com