Premier Wen Jiabao has continued his visit to Yushu Prefecture, by inspecting disaster relief work on Friday morning.
The Premier visited orphanages, temples, and displaced people living in temporary settlements. Wen Jiabao asked the orphans about their living conditions, and checked on their tents and food supply.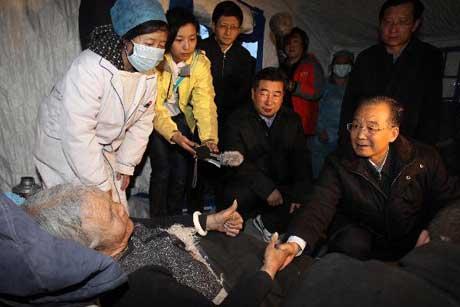 Chinese Premier Wen Jiabao (R) visits a Tibetan woman in Yushu, northwest China's
Qinghai Province, April 15, 2010. Wen arrived here on Thursday to inspect the
disaster relief work and visit quake-affected local people. (Xinhua/Fan Rujun)
He said the entire nation feels their pain, and that they're not fighting alone.
Upon learning that many Tibetan monks have journeyed to the area to join in the rescue efforts, the Premier was quite moved, and went to visit one such group at a temple located 39-hundred meters above sea level.
Wen Jiabao praised their spirit of fighting through difficulties, together.
Related stories