Thousands of Poles join funeral for plane victims
2010-04-18 08:30 BJT
Special Report: Polish President Dies In Plane Crash |
Thousands of Poles filled Warsaw's biggest public square on Saturday, joining together for a memorial and funeral mass for the 96 people, including the president and his wife, killed in a plane crash a week earlier.
Up to 100,000 mourners packed into the vast Pilsudski Square in central Warsaw to commemorate the victims of the country's most devastating accident since World War Two.
Last Saturday's tragic crash plunged Poland into a deep grief not seen for years.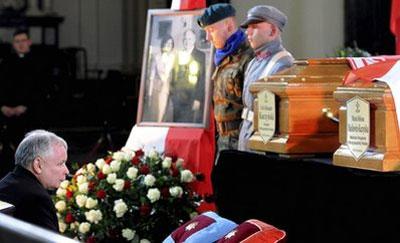 Poland's former Prime Minister Jaroslaw Kaczynski, and twin
brother of the late President Lech Kaczynski, kneels before
the coffins of his brother and first lady Maria Kaczynska
during a service at the Warsaw Cathedral,in Poland, Saturday,
April 17, 2010. (AP Photo/Ludmila Mitregai)
Related stories