Sichuan hospital aid quake victims
2010-04-18 09:25 BJT
Special Report: 7.1-magnitude Quake Hit Qinghai, China |
Severely injured victims have been transferred to larger hospitals in neighboring Sichuan Province.
Many are receiving further treatment in Chengdu. Doctors say they are experienced in dealing with the influx of patients, given the Wenchuan Earthquake two years ago.
At the People's Hospital in Sichuan Province, medical staff are providing both physical and psychological treatment for those injured.
This pregnant woman lost her three children and her husband in the quake. She is still struggling to come to grips with the extent of the tragedy.
Sun Hongbing, OB/GYN Director of Sichuan People's Hospital, said, "She is three months' pregnant and was severely wounded in the quake. She has possibly fractured her pelvis and lumbar. There have been no signs of miscarriage, but she remains in a very emotional state."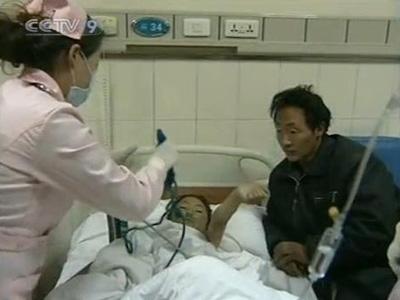 At the People's Hospital in Sichuan Province, medical staff are
providing both physical and psychological treatment for those
injured. (CCTV.com)