Travellers are still stranded in many airports across Europe, as vast areas of the continent's airspace remaines closed due to the volcanic ash from Iceland.
Travel in Europe continued to be severely disrupted by the volcanic eruption on Sunday.
In Germany, Lufthansa said it is canceling all domestic flights until 11 AM Monday and all international flights until 2 PM on Monday. The company has started to take stranded passengers home by coach, with services from Frankfurt to London, Paris and Madrid.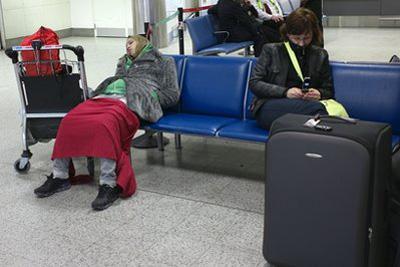 Passengers wait in London's Gatwick Airport, Crawley, England,
Friday, April 16, 2010. (AP Photo/Sang Tan)
Related stories