Day 6 post earthquake, President Hu Jintao arrived in Yushu County in northwest China's Qinghai Province. He's there to assess the damage, coordinate and oversee relief efforts and...of course comfort victims.
The Zhaxi Datong village in Gyegu town was severely damaged in the quake. One in five of the 600 villagers have been killed, and 70 are still missing. 80 percent of the houses have collapsed.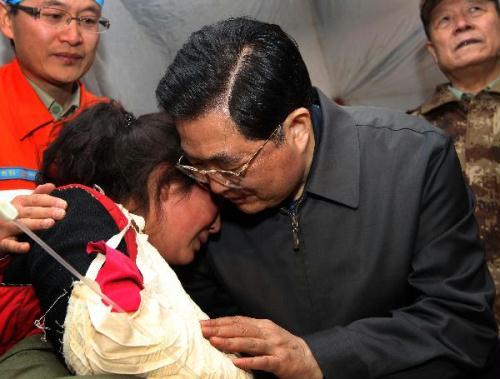 Chinese President Hu Jintao (R front) gives a hug to injured student Zhoema of
Tibetan ethnic group during his visit to those injured in the quake receiving
treatment at a stadium in the Tibetan Autonomous Prefecture of Yushu, northwest China's
Qinghai Province, April 18, 2010. Hu arrived in Yushu Sunday morning to direct relief
work. (Xinhua/Lan Hongguang)
President Hu Jintao visited the village to inspect the disaster situation.
President Hu Jintao said, "We will do our best to rescue these trapped. As there is the slightest hope, we'll try one hundred percent."
Hu Jintao then visited a tent housing the quake-affected residents, listening to their difficulties and consoling them.
President Hu Jintao said, "I can promise you that the Party and the government will help the victims in the quake hit region to rebuild your homes. We will also help students to return to school as soon as possible."
The President also assured victims for the future.
President Hu Jintao said, "Folks, you have suffered a lot. The central government is very concerned after the earthquake. We are sad to hear some of you lost your relatives or homes. Today I want to send condolences to you. The central government is with you. We have dispatched many rescuers from across the country to help with relief work, rescue those trapped, and treat the injured. We'll also settle your lives, and ensure you have enough food, drink, clothes and living space. We'll let students return to school as soon as possible. Please be assured that the central government will help you to rebuild your homes. We believe that under the leadership of the Party and the central government, with the support of people nationwide, and with your own efforts, we can build new and much better homes."
Later President Hu Jintao went to the Yushu Prefecture stadium to see injured people receiving medical treatment. He also checked medical supplies and epidemic prevention and control work.